My Hardest Goodbye, Bone - Personalized Canvas Print Pet Memorial
Regular price

$39.99

Sale price

$29.99
CUSTOMIZATION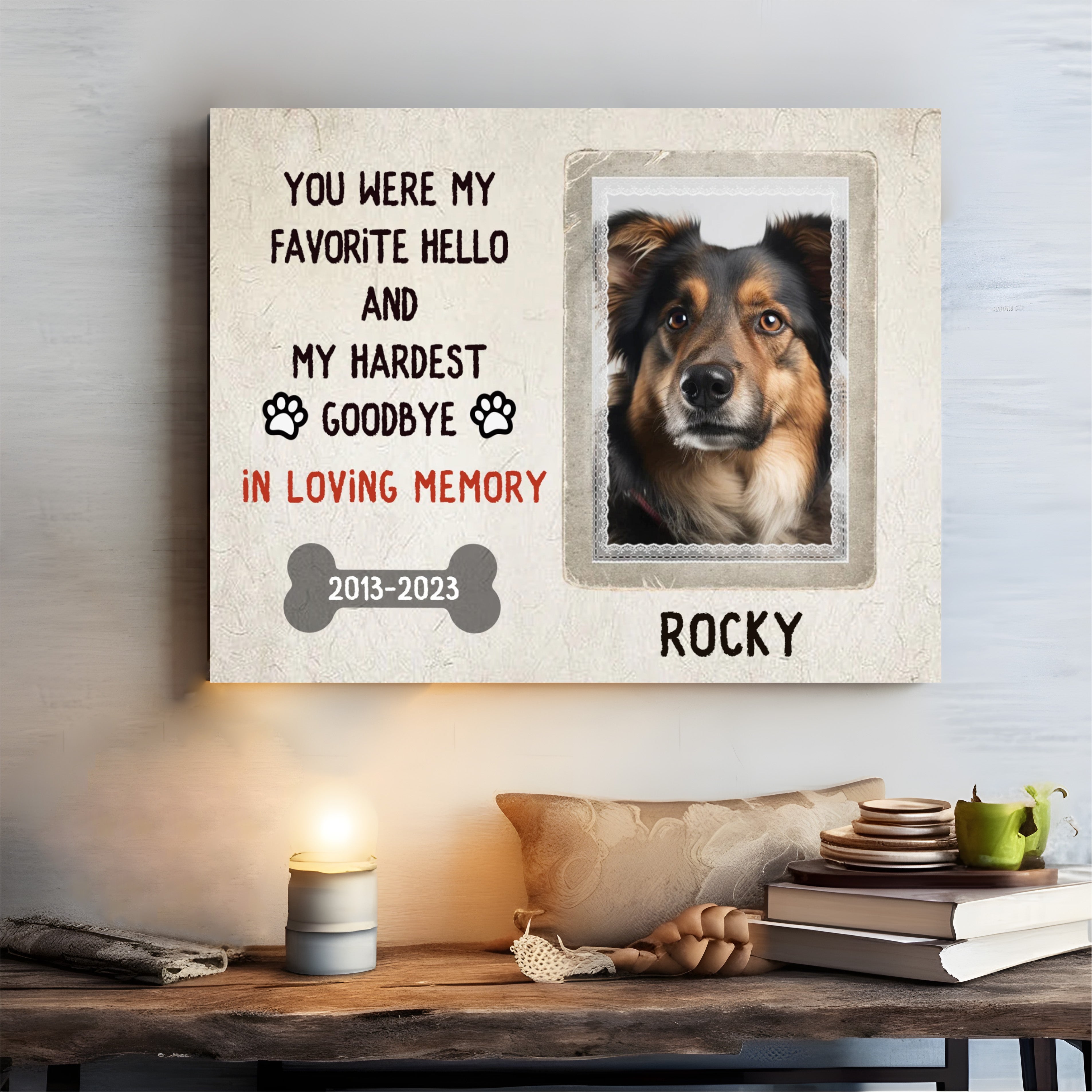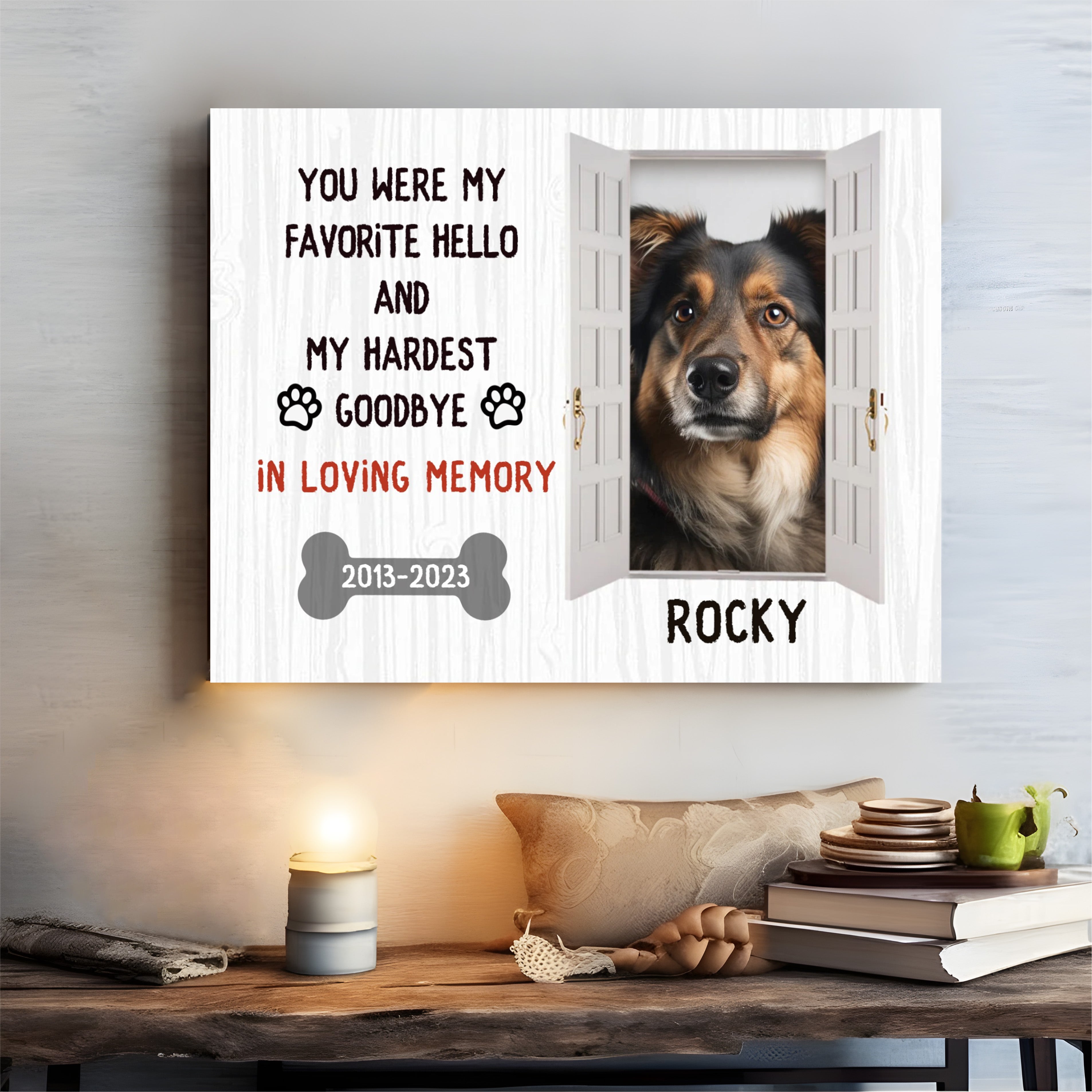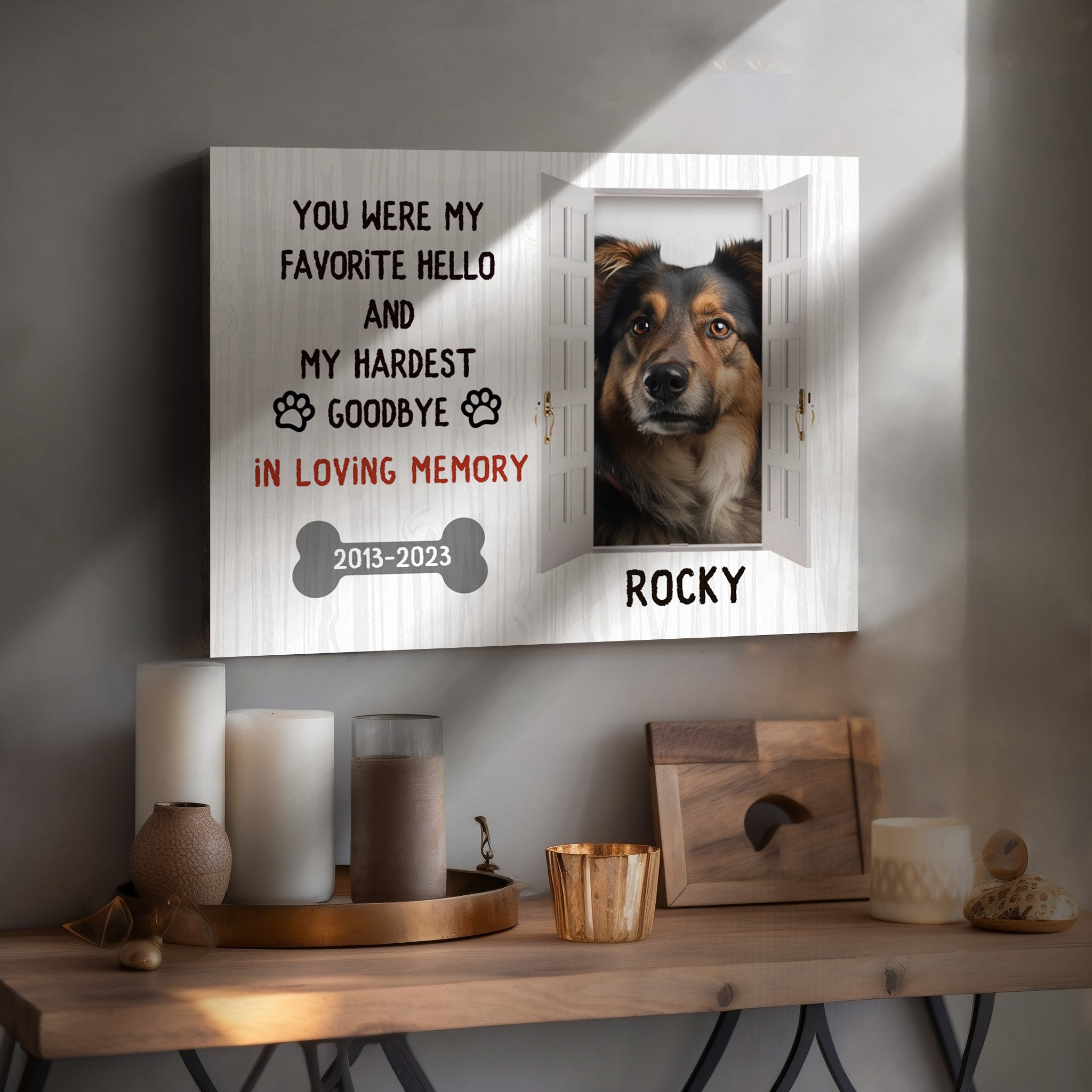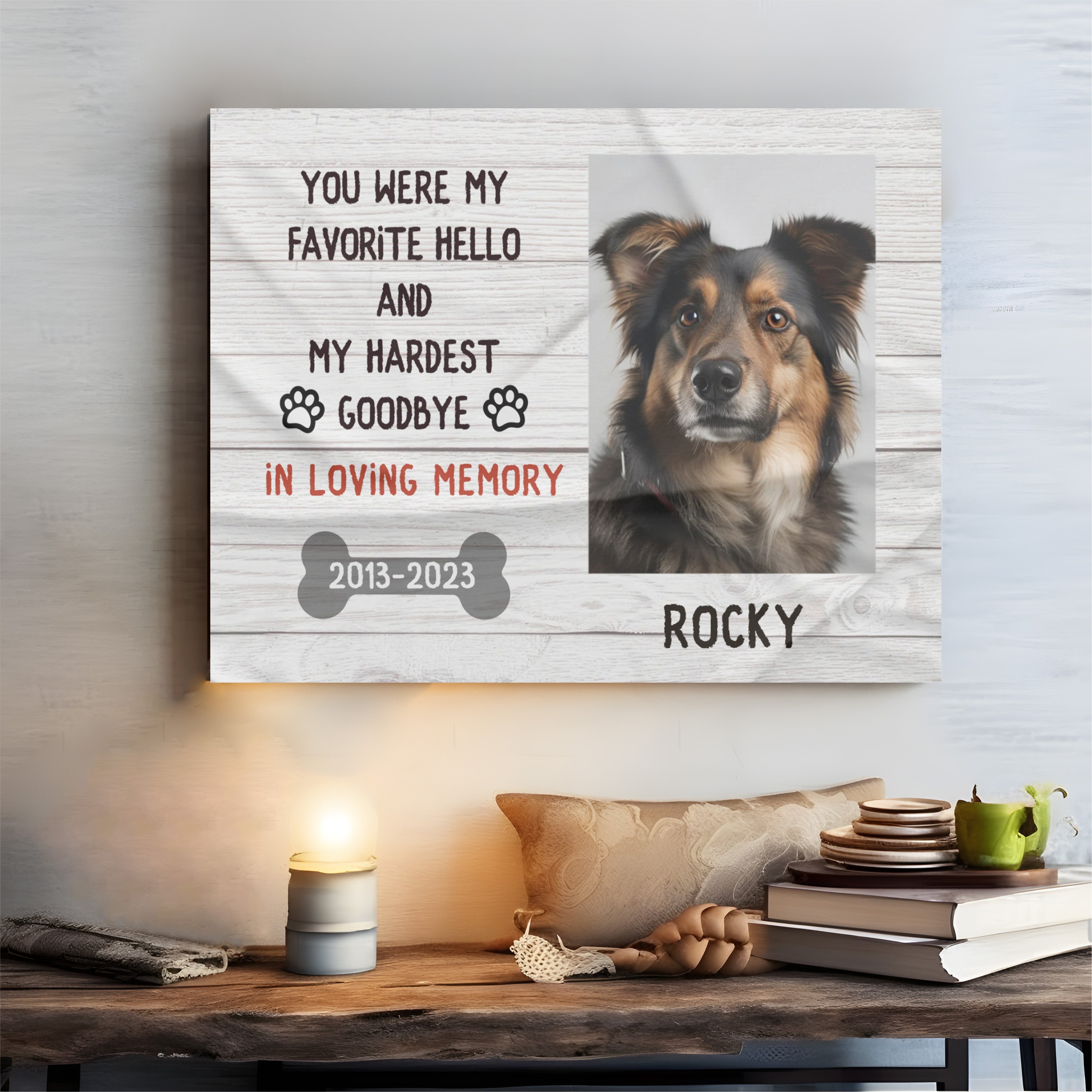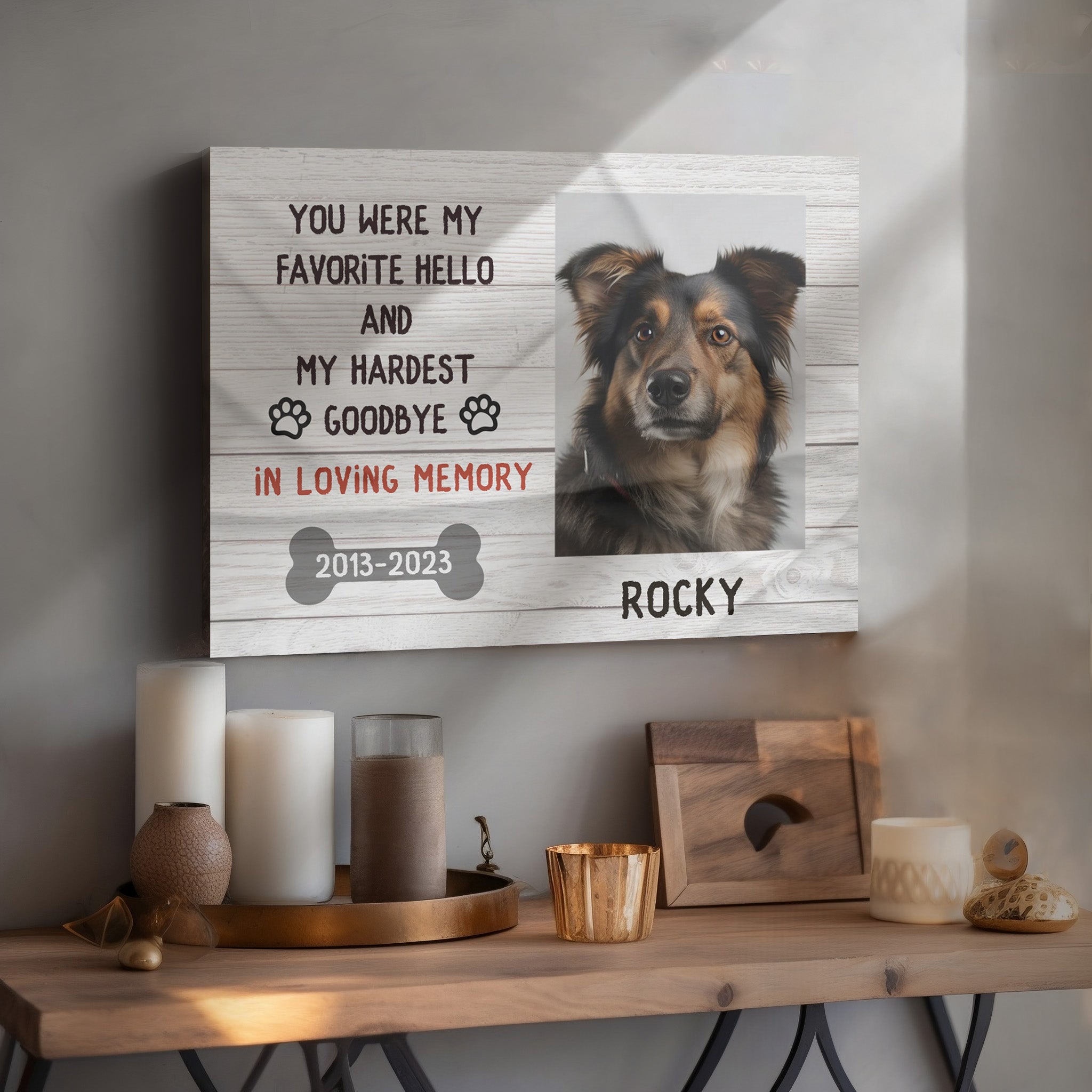 DESCRIPTION

These design templates allow you to create personalized canvas prints that memorialize your pet dog after they pass away.

You upload photos of your beloved dog along with details like the time you shared together. The website automatically transforms this into a high-quality canvas print using the templates.

One of the copy concepts for these templates is the rainbow bridge, which originates from the belief that when a pet passes, they cross into the afterlife through a rainbow bridge. This metaphor signifies hope and comfort for grieving pet owners. Another copy concept is a heartfelt farewell to the pet, expressing the reluctance to part with the pet in artistic words. These prints offer a tangible way to honor and remember your cherished companion.

Another creative element is the paw print pattern, symbolizing each step the dog took with you, leaving an indelible mark.

While the templates provide an artistic starting point, if the design does not fully meet your needs, you can suggest minor changes in the notes when ordering to customize the print and truly reflect your unique relationship with your pet. For example, you may wish to modify the text or other elements in the design.

The canvas prints capture the dog's spirit and preserve its memory to provide solace and comfort during this difficult time, celebrating the joy and companionship it brought into your life.

Memorialize your beloved companion with a personalized sentiment. Also, we're happy to customize the wording however you see fit. Our team is always ready to make your memorial painting unique. Simply contact us at service@picoonal.com and we'll fulfill your customization request within 8 hours.

Bring an extra touch of sophistication to your artwork with our premium framing options. We provide two elegant colors: a rich walnut hue that exudes natural warmth and classic black that imbues refined style. The premium frame further elevates your custom painting, giving it a dignified and polished look fit for prominence in any space.

At Picoonal, we pour care into every detail so you can always cherish your beloved pet's memory.
WHY PICOONAL?

Lifelong Quality

At Picoonal, we create decorative paintings designed to become treasured keepsakes that withstand the test of time. Our high-quality canvases ensure your artwork remains protected and pristine for years to come.

The thick sturdy backside we use not only prevents warping and wrinkles, but also creates a smooth flawless look under any lighting. Whether displayed in bright sun or soft shadow, your custom painting will always look its vibrant best.

We utilize the latest printing techniques and custom-developed, archival pigment-based inks to deliver bright, crisp colors that perfectly match even your boldest designs. Our meticulous manufacturing and printing process further guarantees the canvas will live on for generations.

When you choose Picoonal, you are choosing a decorative painting built to last a lifetime.

100% Cotton canvas: Printed on a natural white, matte, ultra smooth, 100% cotton canvas with 400gsm standard
Lifelong color: The latest printing techniques and custom-developed, archival pigment-based inks provide bright and crisp colors matching your craziest designs, while high-quality manufacturing and printing guarantees that the canvas will live for generations
Ready to hang: Comes with hanging hardware for an effortless install of the canvas
Deep Depth: All sizes are 1.25" Depth

  

Customize More

At Picoonal, we respect every customer's unique needs. We support making minor adjustments to all products, and even welcome customers to provide creative ideas for us to complete the designs. All of these customization services are free of charge.

If you prefer to fine-tune this product to better suit your expectations, please add this product to your shopping cart and leave a remark regarding your needs in the CUSTOMIZE MORE box in your cart. PICOONAL desinger will help and confirm the details with you before production.
If you have other creative ideas that wish to be realized, We would like to do co-creation with you. Please email your ideas and pictures to service@picoonal.com, we will get back to you Soon.
SIZE CHART
SHIPPING INFORMATION

We provide two shipping options to the Contiguous United States, Standard Shipping for $8.99 and Priority Shipping for $29.99.
All orders need to be made, and most of them will be sent within 2-4 business days. 
Shipping to the contiguous United States is 3-6 business days. You can pay additional moeny upgrade to Priority Shipping and the estimated delivery time is 2-3 business days.
Shipping to Alaska/Hawaii/Puerto Rico is available, but it can take additional 7 – 12 business days.
Shipping to the Australia area is 2-6 business days.
Shipping to the Canada area is 2-6 business days.
You can track your order here after purchase.