I Never Left You - Personalized Canvas Print Pet Memorial
Regular price

$39.99

Sale price

$39.99
CUSTOMIZATION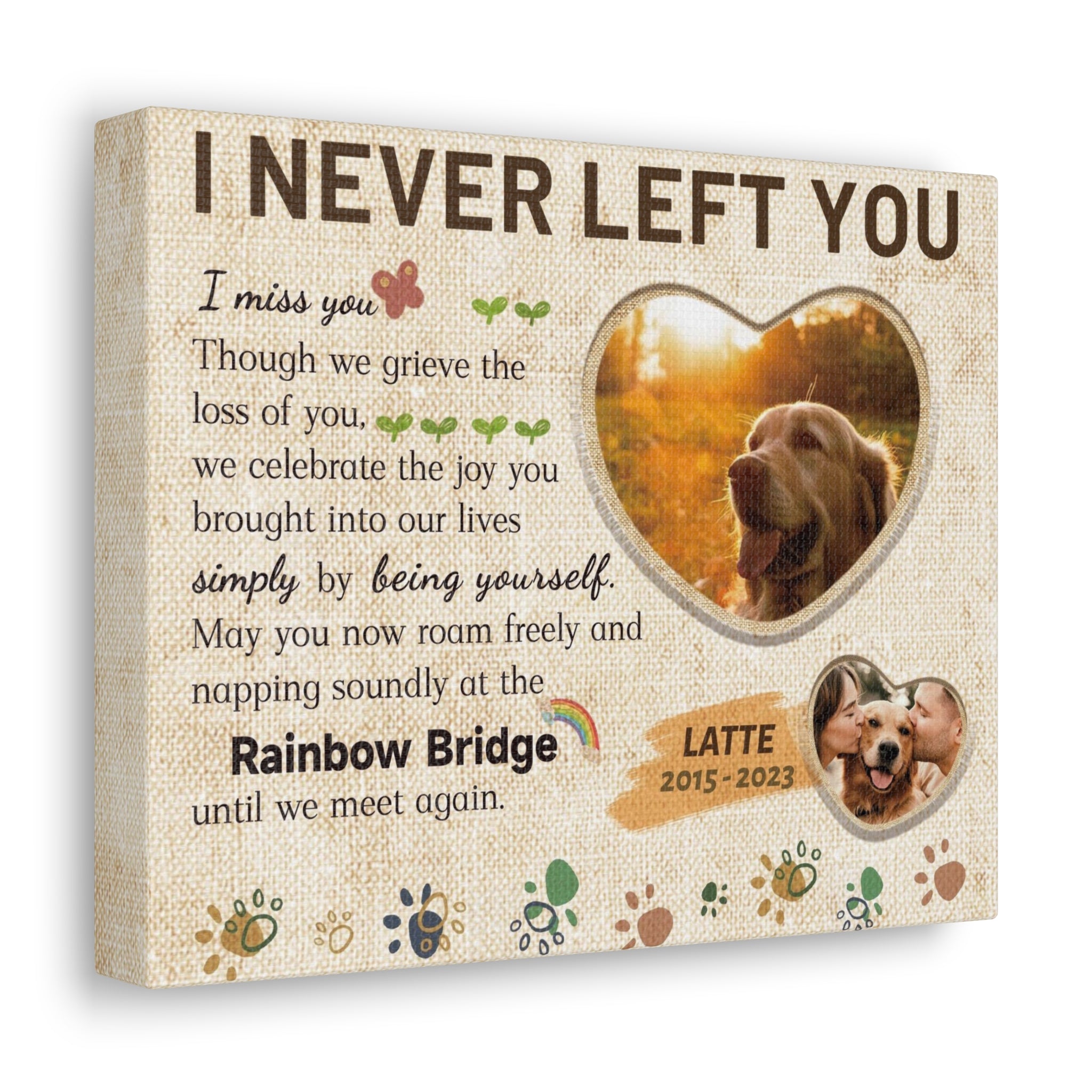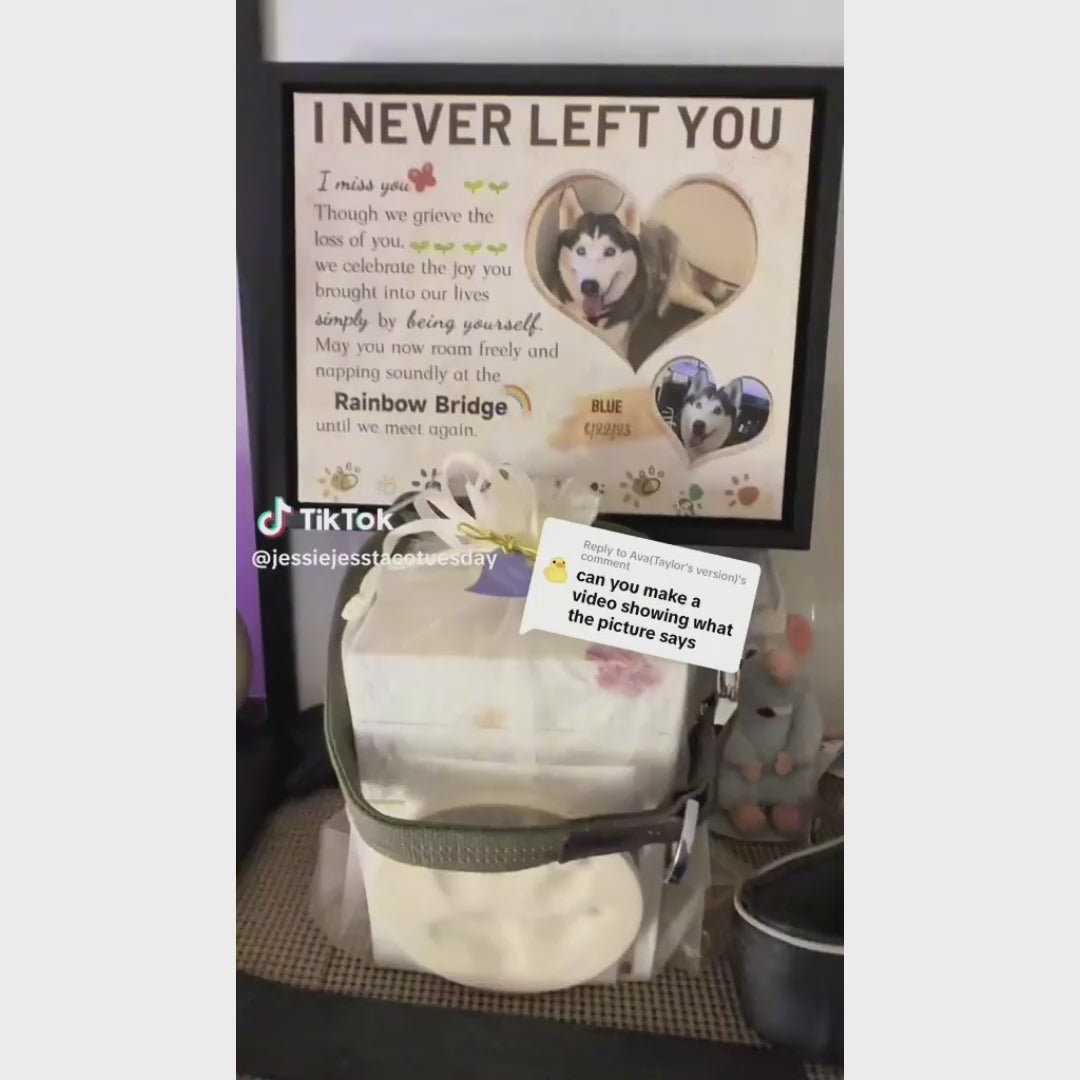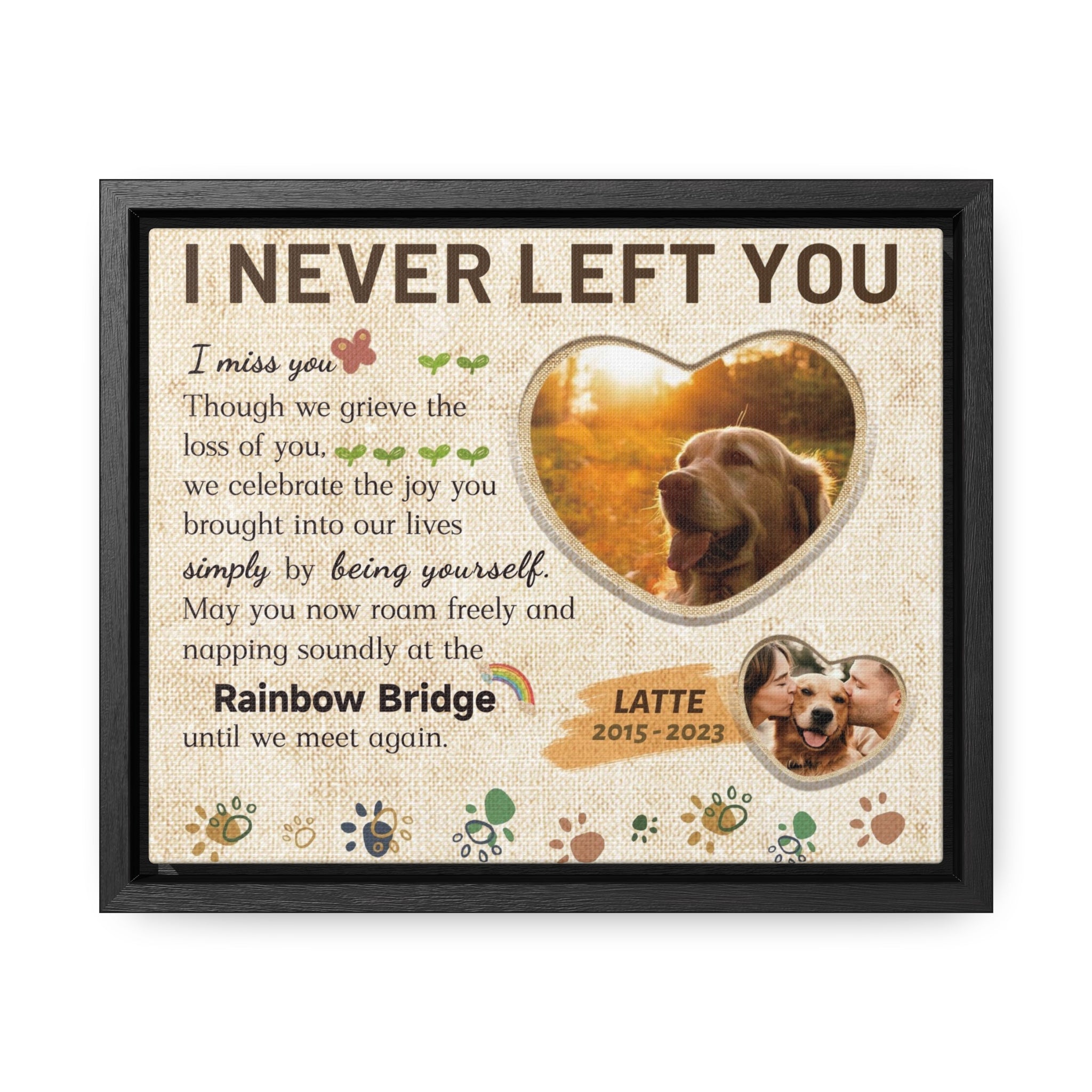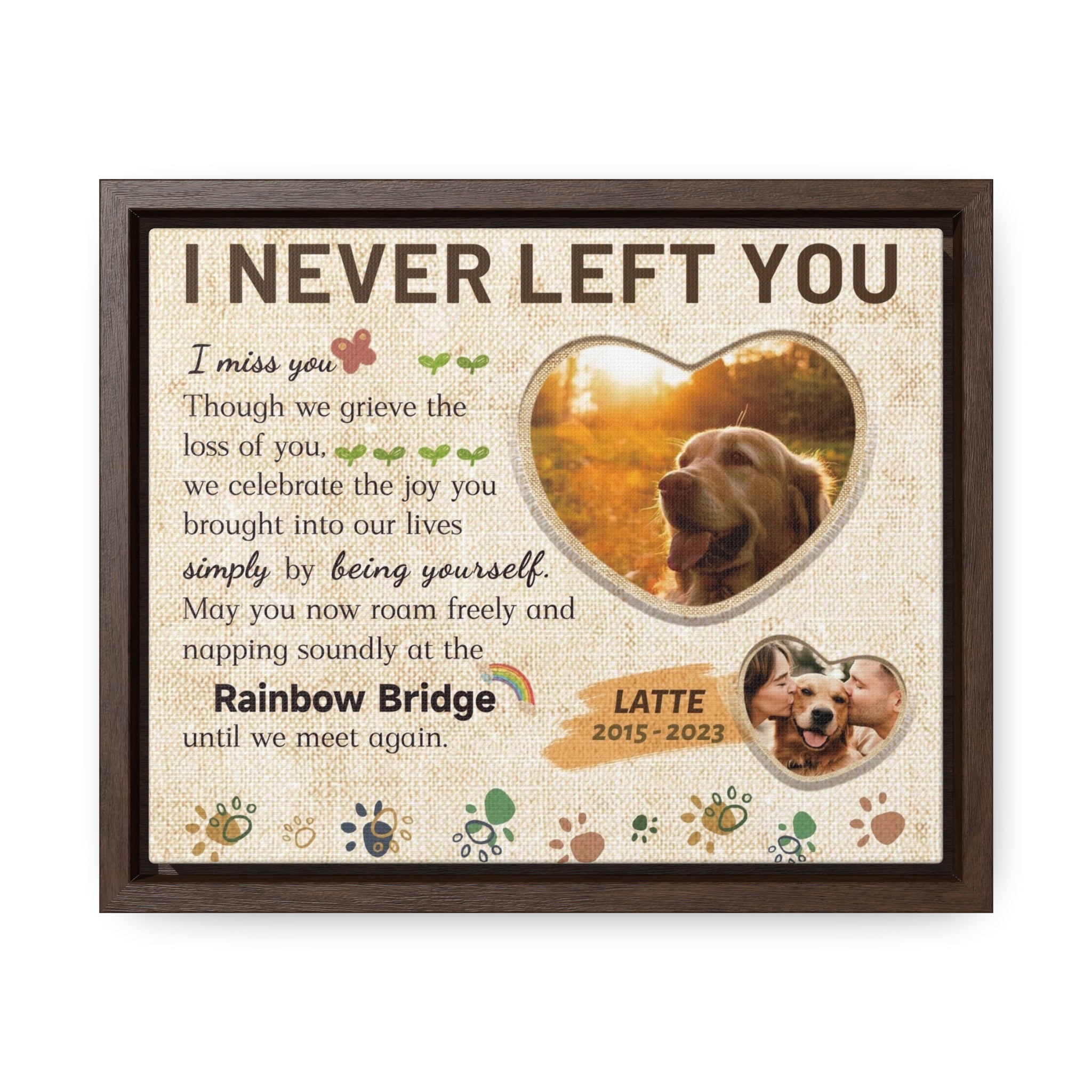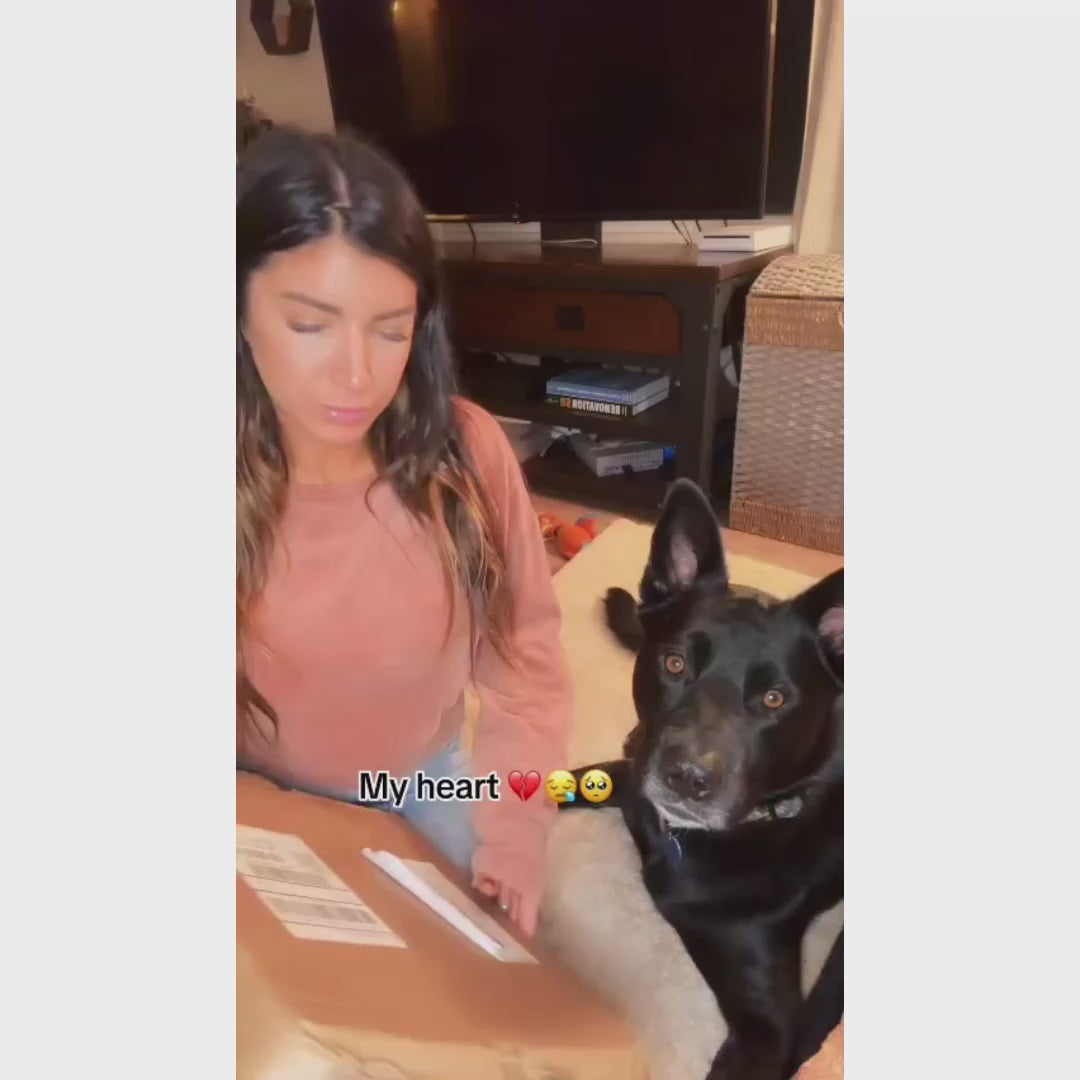 DESCRIPTION

As a proud pet owner myself, I understand the deep bond that we share with our furry companions. That's why I'm excited to introduce our new product, which offers a unique way to commemorate the life of your beloved pet.

Our product is a design template that allows you to create a canvas painting that embodies the memories and love you shared with your pet. Our main goal is to create a lighthearted and joyful theme that celebrates your pet's life and brings back happy memories for you.

To achieve this, we've incorporated four key elements into the design template.

The first is paw prints, which represent the unique personality and playful spirit of your pet. They serve as a reminder of the joy and love your pet brought into your life.

The second element is the rainbow bridge, which symbolizes the belief that your pet has crossed over to a happy afterlife. It's a comforting thought for many pet owners, and we feel it's important to convey this message in our design.

The third element is butterflies, which represent the playful and adventurous nature of dogs. We've included them to capture the spirit of your pet and their love of chasing after things.

Finally, we've also included a poem to add a touch of lightness and fun to the design. It's a small but meaningful detail that we hope will bring a smile to your face every time you look at your canvas.

To create your canvas, all you need to do is upload two photos - one of you and your pet together, and another of your pet alone. You can also share your pet's name and a special memory or moment you shared with them. We will then generate a canvas painting that combines your photos with our design template.

If you're not completely satisfied with the final result, we offer limited customization options, such as adjusting the paw prints, butterflies, or even the poem. Simply contact us after placing your order, and our designers will be happy to assist you and listen to your story about your beloved pet.

Overall, our product offers a beautiful and personalized way to remember your pet and keep their memory alive. We hope it brings comfort and joy to all those who use it.
WHY PICOONAL?

Lifelong Quality

At Picoonal, we create decorative paintings designed to become treasured keepsakes that withstand the test of time. Our high-quality canvases ensure your artwork remains protected and pristine for years to come.

The thick sturdy backside we use not only prevents warping and wrinkles, but also creates a smooth flawless look under any lighting. Whether displayed in bright sun or soft shadow, your custom painting will always look its vibrant best.

We utilize the latest printing techniques and custom-developed, archival pigment-based inks to deliver bright, crisp colors that perfectly match even your boldest designs. Our meticulous manufacturing and printing process further guarantees the canvas will live on for generations.

When you choose Picoonal, you are choosing a decorative painting built to last a lifetime.

100% Cotton canvas: Printed on a natural white, matte, ultra smooth, 100% cotton canvas with 400gsm standard
Lifelong color: The latest printing techniques and custom-developed, archival pigment-based inks provide bright and crisp colors matching your craziest designs, while high-quality manufacturing and printing guarantees that the canvas will live for generations
Ready to hang: Comes with hanging hardware for an effortless install of the canvas
Deep Depth: All sizes are 1.25" Depth

  

Customize More

At Picoonal, we respect every customer's unique needs. We support making minor adjustments to all products, and even welcome customers to provide creative ideas for us to complete the designs. All of these customization services are free of charge.

If you prefer to fine-tune this product to better suit your expectations, please add this product to your shopping cart and leave a remark regarding your needs in the CUSTOMIZE MORE box in your cart. PICOONAL desinger will help and confirm the details with you before production.
If you have other creative ideas that wish to be realized, We would like to do co-creation with you. Please email your ideas and pictures to service@picoonal.com, we will get back to you Soon.
SIZE CHART
SHIPPING INFORMATION

We provide two shipping options to the Contiguous United States, Standard Shipping for $8.99 and Priority Shipping for $29.99.
All orders need to be made, and most of them will be sent within 2-4 business days. 
Shipping to the contiguous United States is 3-6 business days. You can pay additional moeny upgrade to Priority Shipping and the estimated delivery time is 2-3 business days.
Shipping to Alaska/Hawaii/Puerto Rico is available, but it can take additional 7 – 12 business days.
Shipping to the Australia area is 2-6 business days.
Shipping to the Canada area is 2-6 business days.
You can track your order here after purchase.