I Never Left You - Personalized Photo Canvas Print Sympathy Gifts
Regular price

$59.99

Sale price

$59.99
CUSTOMIZATION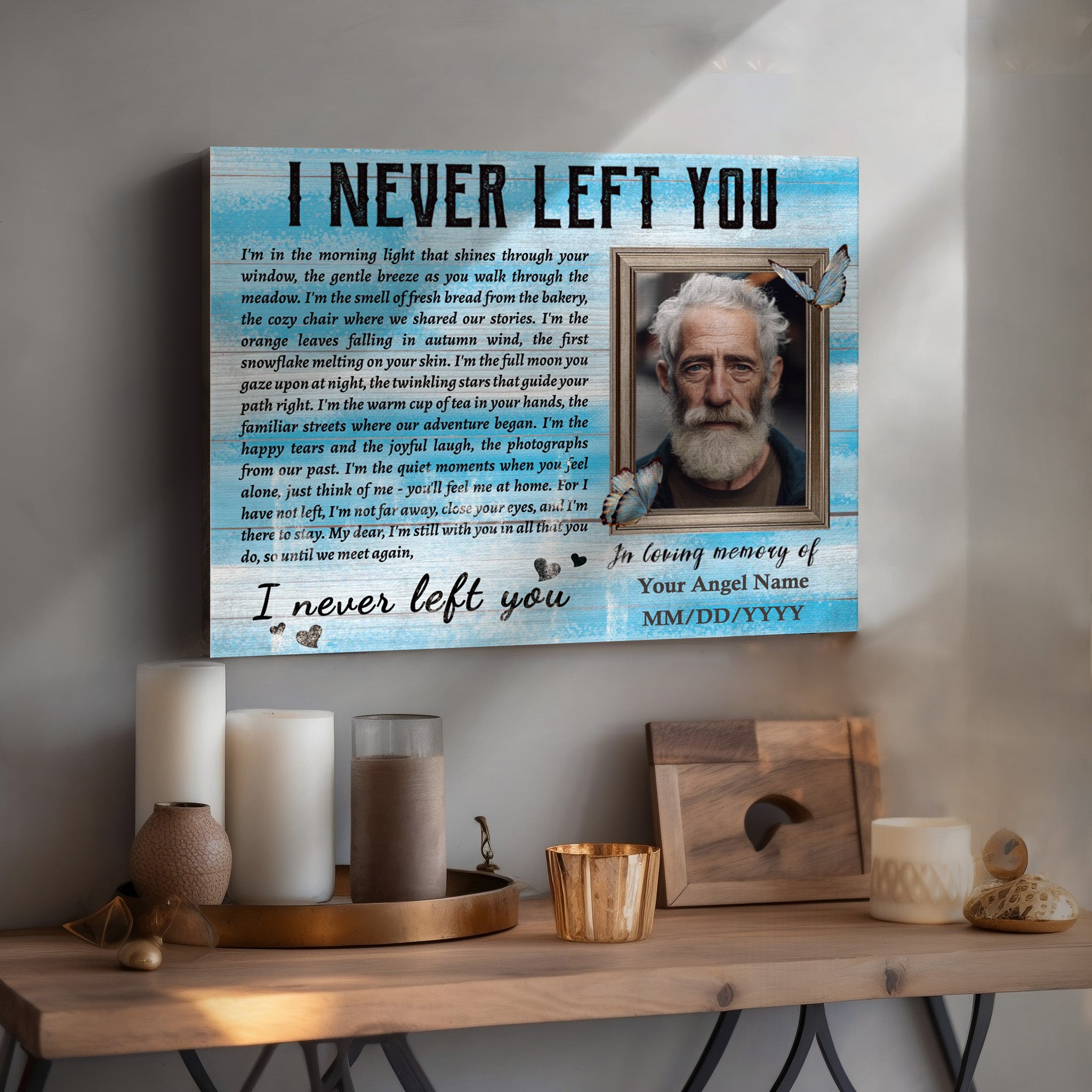 DESCRIPTION

I Never Left You. Personalized Photo Canvas Print Sympathy Gifts. This is a memorial canvas commemorating and cherishing the memory of our beloved ones who have passed away. With the theme "I Never Left You". It conveys our reluctance to part and longing to remember our departed loved ones, expressing that we will always love and memorialize them. 

We understand you have recently experienced the passing of a loved one, which is undoubtedly extremely painful. However, our life's journey continues. We can use this canvas to memorialize our departed loved ones, so that seeing it everyday will remind us of them and make us feel their presence. At the same time, we must also strive to live in the present, facing the beautiful things still left in life. Our loved ones would want us to carry on happily. This canvas will not only serve as a reminder of those we've lost, but also encourage us to keep looking ahead. It will become a warm accent in our home, letting us feel the meaning of life.

This heartfelt, personalized canvas is perfect for grandparents, lifelong partners, friends or family members grieving the recent loss of a loved one. Seeing the familiar images and touching words printed on it will remind them that nothing can truly separate them. Their amazing guardian angel is always near, watching over their every step.

Also, we're happy to customize more. Our team is always ready to make the canvas unique. Simply contact us at service@picoonal.com and we'll fulfill your customization request within 8 hours.
WHY PICOONAL?

Lifelong Quality

At Picoonal, we create decorative paintings designed to become treasured keepsakes that withstand the test of time. Our high-quality canvases ensure your artwork remains protected and pristine for years to come.

The thick sturdy backside we use not only prevents warping and wrinkles, but also creates a smooth flawless look under any lighting. Whether displayed in bright sun or soft shadow, your custom painting will always look its vibrant best.

We utilize the latest printing techniques and custom-developed, archival pigment-based inks to deliver bright, crisp colors that perfectly match even your boldest designs. Our meticulous manufacturing and printing process further guarantees the canvas will live on for generations.

When you choose Picoonal, you are choosing a decorative painting built to last a lifetime.

100% Cotton canvas: Printed on a natural white, matte, ultra smooth, 100% cotton canvas with 400gsm standard
Lifelong color: The latest printing techniques and custom-developed, archival pigment-based inks provide bright and crisp colors matching your craziest designs, while high-quality manufacturing and printing guarantees that the canvas will live for generations
Ready to hang: Comes with hanging hardware for an effortless install of the canvas
Deep Depth: All sizes are 1.25" Depth

  

Customize More

At Picoonal, we respect every customer's unique needs. We support making minor adjustments to all products, and even welcome customers to provide creative ideas for us to complete the designs. All of these customization services are free of charge.

If you prefer to fine-tune this product to better suit your expectations, please add this product to your shopping cart and leave a remark regarding your needs in the CUSTOMIZE MORE box in your cart. PICOONAL desinger will help and confirm the details with you before production.
If you have other creative ideas that wish to be realized, We would like to do co-creation with you. Please email your ideas and pictures to service@picoonal.com, we will get back to you Soon.
SIZE CHART
SHIPPING INFORMATION

We provide two shipping options to the Contiguous United States, Standard Shipping for $8.99 and Priority Shipping for $29.99.
All orders need to be made, and most of them will be sent within 2-4 business days. 
Shipping to the contiguous United States is 3-6 business days. You can pay additional moeny upgrade to Priority Shipping and the estimated delivery time is 2-3 business days.
Shipping to Alaska/Hawaii/Puerto Rico is available, but it can take additional 7 – 12 business days.
Shipping to the Australia area is 2-6 business days.
Shipping to the Canada area is 2-6 business days.
You can track your order here after purchase.